To post a Project to Behance, please login and do the following:
Click the blue "Create a Project".  If you're not able to see this button, please zoom out on your browser. 

Begin adding your content. You have the option to add local files, Lightroom files, as well as text and embeddable content from other sites.
To add more content, use the "Add Media" box on the left hand column to upload files, embed media, add text, or import from Lightroom.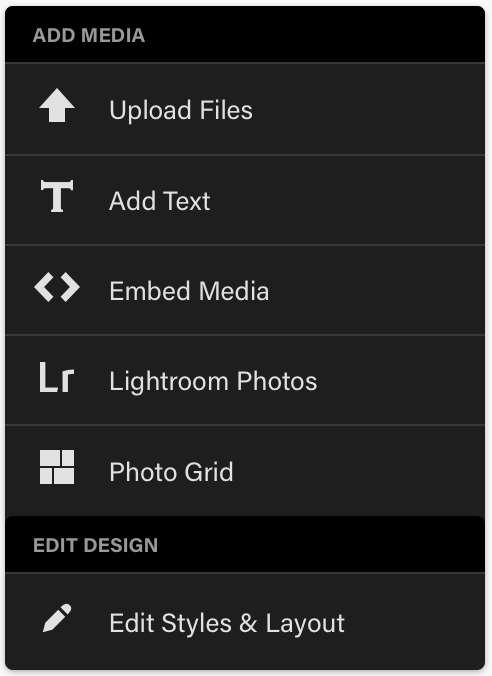 If you add text, use our Styling options to edit your text styles.
You also have the ability to align your text to the left, the center, or the right. Do to this, hover over your project text you've inserted, and click on the blue alignment buttons on the right hand side.
Place your mouse over a piece of media and a pencil icon will appear. Here you can: Reorder, Add a Caption, Replace, or Delete it. 
When re-ordering, simply click the handle (the three horizontal lines) next to an element and then drag & drop the modules into your desired order.  
Click on the "Edit Styles & Layout" option under "Edit Design" on the left-hand box to adjust your Dividers & Spacing, or customize your Background. Note that you cannot have individual dividers - they will be standard between each image. Also, you can change the Text Styles by editing the Headers, Sub-Headers, Paragraphs, Captions, and Text Links.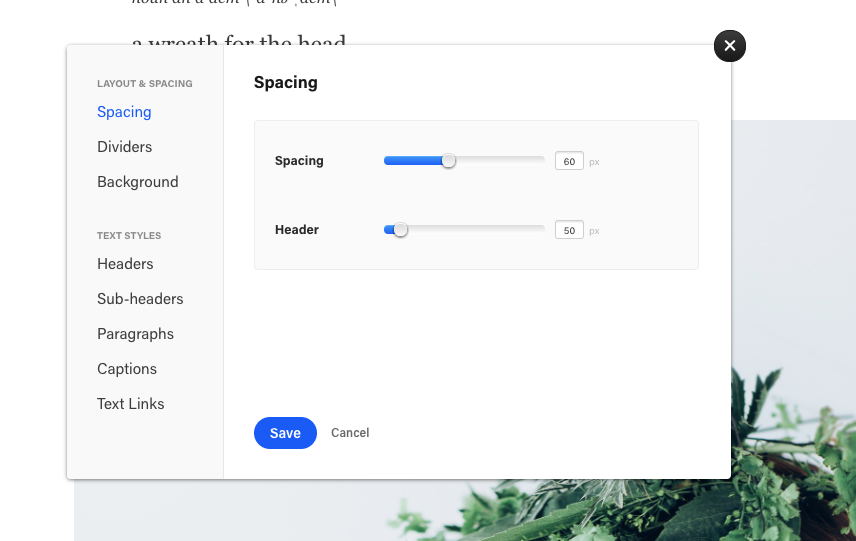 When you're satisfied, click Save. Next, add your Cover Image by uploading a small image which will be your project cover.  Your cover image will be displayed at 202x158 px, but you must upload an image that is at least 808x632 px. The reason for this is so that your cover image will look great on retina display screens. Once you upload an image, you can use our cropping tool to cut it down to the exact size. Also, write and add your project title during this step.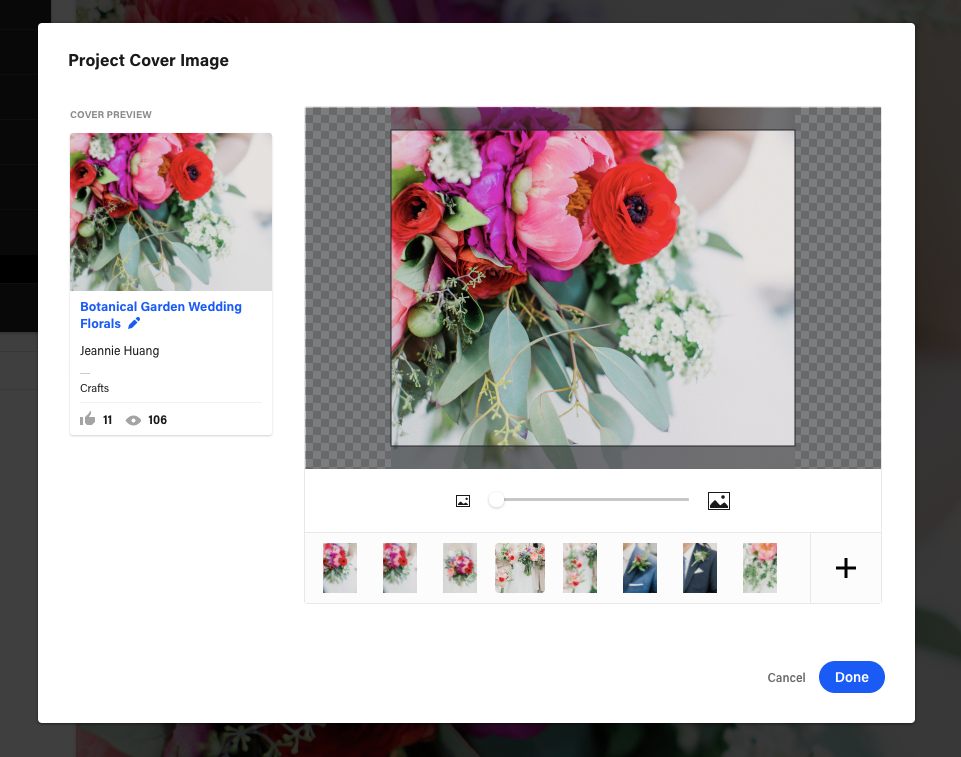 Continue on to settings before you publish your project. Here, you'll choose Creative Fields, Project Tags, and add a Project Description. You'll have the option to adjust project privacy, Copyright Settings, Credit other creatives, and add your Team page, Co-Owners and Tools used.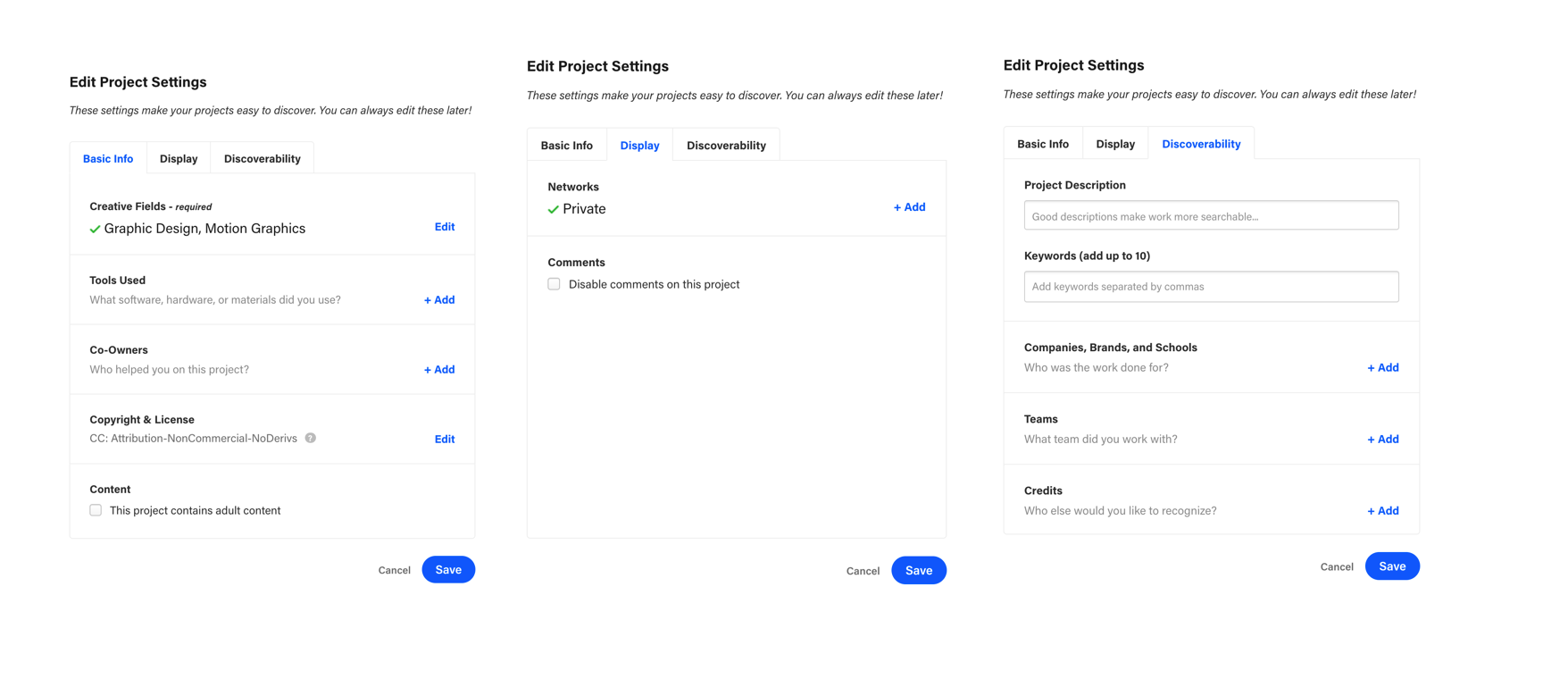 Then, click Publish! After publishing, you'll have the option to share with social networks for added exposure.