Using The Text Editor Toolbar
You can style your Project's text in the Text Editor using the toolbar dropdowns for Font, Size, Color, Bold, Italic, Underline and Alignment. This is great for small selections of text, but if you're working with lots of text, we recommend designating a few different custom styles for your text instead of selecting the styling from the toolbar each time.  
Adding A Link To Text
To add a link:
Select the text you want to turn into a link and click the link button.

Creating a Text Style
To create a text style:
Click the

Styles

dropdown

Click

Edit Text Styles

In the

Style Editor

pop up, select a style you'd like to edit. As you edit the style, you'll see progress in the text box below. 

When you're done editing, click Done

.

When you're back at the original text box, highlight the text you'd like to change and then select the style.  
*Note: You can change the style of individual lines of text but not the style of single words within that line.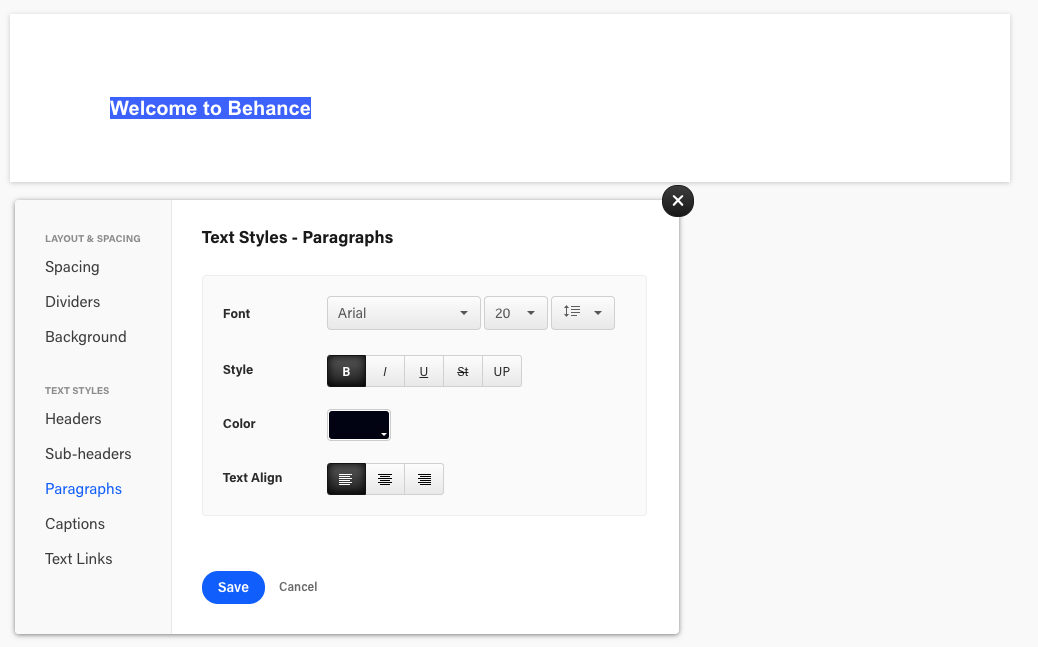 Using The Clear Styles Feature
Copying and pasting text into a text box will remove most of the formatting to ensure a fresh start for editing. If you're having trouble styling:
Add new line breaks (pressing the enter key) between paragraphs to split up the text

Try pasting the text into a plain text editor to remove formatting before copying again to add to Behance
*Note: If you're editing text on an existing Project, you may want to try using the Clear Styles button for a fresh start so all the new styles work correctly.